MPP for Algoma—Manitoulin
Michael Manthra
Phone: (416) 325-1938
Email: [email protected]
http://ontariondp.com/en/candidates/michael-mantha
Riding Profile:
This northern Ontario riding spreads the smallest population in a provincial riding over the third largest land area.
It stretches from Manitoulin Island in the south to north of Manitouwadge and Hornepayne, and from Lake Superior in west to the Nickel Belt and Sudbury ridings in east. It also includes the outer fringes of Sault Ste. Marie, as well as vast tracts in which timber and mining are the main industries.
The riding's economic base is rooted in manufacturing, pulp and paper, and mining, including uranium. Elliot Lake, the uranium centre, is the largest single urban centre.
There are several native reserves in the riding and the aboriginal population is the third highest in the province, according to the 1996 census.
The riding was created prior to the 1999 general election through the amalgamation of the former ridings of Algoma and Algoma-Manitoulin, plus parts of the Nickel Belt and Lake Nipigon ridings.
Population: 74,828 (2011 census; a decrease of 4% since 2006)
Political History:
In 2011, Liberal Michael Brown lost the seat he had held since 1987 to New Democrat Michael Mantha, who captured more than 44% of the vote.
In the old riding of Algoma-Manitoulin, PC candidate John Lane won elections in 1971, 1975, 1977, 1981 and 1985. Lane didn't run in the 1987 election when the riding became Liberal again.
In the old riding of Algoma, PC candidate Bernt Gilbertson won elections in 1967 and 1971. He was defeated in 1975 by NDP candidate Bud Wildman, who won every successive election until his retirement in 1998.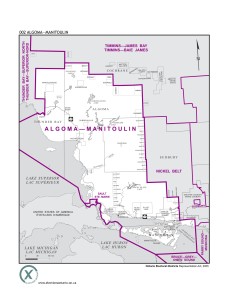 Courtesy – http://www.cbc.ca/elections/ontariovotes2014/ridings/view/riding-002Map Of Region
2014 Provincial Election Results:
| | | | |
| --- | --- | --- | --- |
| Party | Candidate | Total votes | % |
| NDP | Michael Mantha | 14,172 | 53.36 |
| LIB | Craig Hughson | 6,504 | 24.49 |
| PC | Jib Turner | 4,589 | 17.28 |
| GRN | Alexandra Zalucky | 828 | 3.12 |
| LTN | Richard Hadidian | 464 | 1.75 |
2011 Provincial Election Results:
| | | | |
| --- | --- | --- | --- |
| Party | Candidate | Total votes | % |
| NDP | Michael Mantha | 11,560 | 44.45 |
| LIB | Mike Brown | 7,405 | 28.47 |
| PC | Joe Chapman | 6,147 | 23.64 |
| GRN | Justin Tilson | 677 | 2.60 |
| FCP | David Hoffman | 218 | 0.84 |